Address given by E.M Cornelius on the occasion of the 50th Anniversary of the QCA (1982)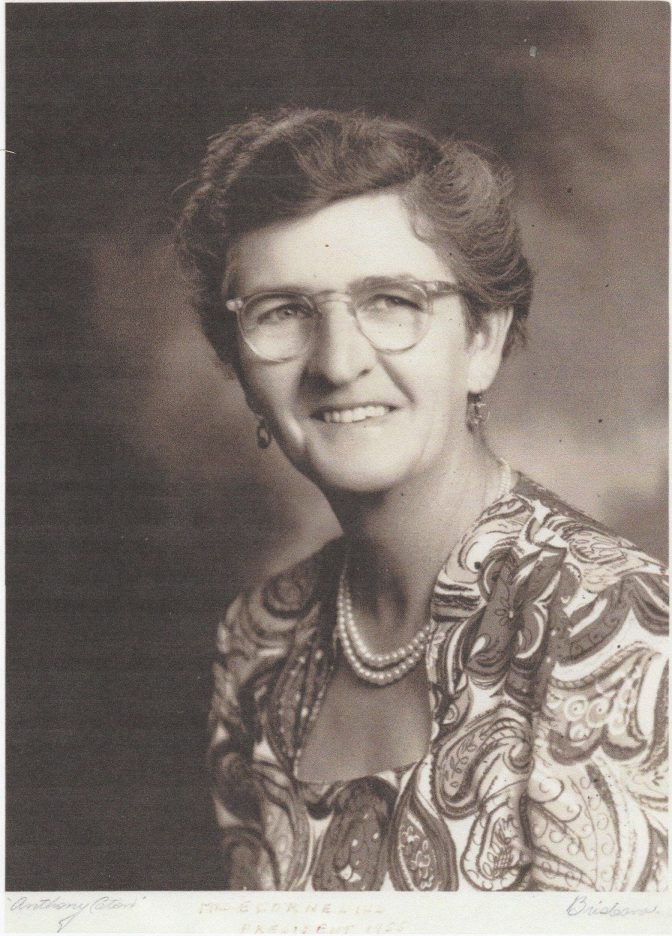 Madam President, Official Guests, Players and Visitors
This year marks the 50th anniversary of Merthyr Croquet Club. Before I go further into it, I would like to give the history of New Farm, which I have been able to secure and also brings in the beginning of Merthyr Croquet Club. Really when one goes into these past histories, it is amazing what one learns. New Farm, the popular residential suburb set out on one of Brisbane River's most picturesque reaches, had its origin in the grim convict era of Brisbane's early settlement. The early food needs of Brisbane's settlement were met by a crop of market gardening in South Brisbane. When the 400 acres could no longer supply the needs of the increasing numbers of convicts and soldiers land was selected on the northern side of the river, cleared of scrub and planted with crops.
This area became known as "New Farm" by the settlement residents, and this is the name that has remained for the area east of Fortitude Valley. Chain gangs were marched into the New Farm each morning from their barracks, through Queens Street and along what is now Bowen Terrace. All cultivation of the farm was done by hoe. There were no such refinements as even the simplest plough to ease the work for the convicts. The area was still in use as a farm in 1846, when the New Farm racecourse was laid out. In the 1850s an area of about 230 acres between the present Merthyr Road and the city was held by only a few families.
It was on the 12th of August 1893 that a sugary refinery company opened up its works. the factory when opened was turning out 10,000 tons or half the quantity required to supply the needs of the colony. The present sugar refinery was built where racecourse road used to be. The sugar refinery is still productive at the present time. The City Council powerhouse was also built, where the racecourse was, in 1928.
In 1913 the Council opened up a series of negotiations, which resulted in the purchased of three parks Perry Park, New Farm Park and Raymond Park. And article published in the "telegraphy" 6 March 1965 describes New Farm Park as a "37 acre park with 40,000 rose trees of 300 varieties which have won it the reputation of being one of Australia's outstanding rose gardens. The highly cultivated fifty-three year old park, famous also for its brilliant avenue jacaranda trees, is the life centre of New Farm Park, with week-end cricket, football fixtures in season and croquet courts for the more leisurely include."
It was in 1907 that the New Farm Bowling club was founded. The land was purchased from Mr J.M. Callum, owner of the Cremorne Theatre and Mr. G. Muller, for £400. Both these gentlemen lived in Bowen Terrace.
The land was sold on one condition – that it could be used as a sporting area. It was in this bowling area that croquet was actually started. Mrs Gasteen who was a daughter of Mr. G Muller and is a member of our club gave me the two old post cards she had. I have had a copy taken off them for the club. In one of these photos you will see that they were holding a day to raise funds for the soldiers in the 1914-18 war.
In 1923 the bowlers bought another piece of land so they could expand. Unfortunately, I cannot give any details of when the club actually affiliated with the association, as we have no records as they were all destroyed in our fire, but I have reason to believe they were there until we started at our present site. It was only when I went into the City Council that I found out that in 1932 the first lease was taken out on the present site. I have not been able to establish very much concerning the club in those days, as I was not a player until 1952. I did learn from Mrs Daniels who played an active part in croquet and was secretary of the Association for 19 years that Merthyr was a very active club in those days and that all important events were held there and used to last for weeks at a time. I can remember going there myself to play in my early tournaments. In 1953 the membership had dropped to 5 players when the club decided to hand it over to the Q.C.A The Association was not prepared at that stage to take them over as association courts and decided that a committee be formed until such time that they would decide what to do. Although I had not been in the sport for long I was nominated as one of those 12 on the committee. This committee worked very hard for the 2 years to keep the courts in playing order by holding jumble sales and various functions.
In February 1956 at the Annual Meeting of the Qld Croquet Association, the matter of Merthyr was discussed when the Association said they were not prepared to take on Merthyr as Association courts. After a lot of discussions I was asked if I would take start Merthyr again. Seeing it would mean we would lose these courts (otherwise), I decided I would try. Little did I realise what work was involved. I managed to get 12 members to join with the committee joining for 12 months to start us off. The first year was a real test to us, but with(out) the support of the members and the 2 men, Mr Aitkinson and Mr. H Cornelius who helped to cut the cost of some of the work, I doubt if we could have come out on top. It it interesting to know that our subscription in those days was £2 a years and 1/- per play day. I remained President for four years after which the Club was gradually making headway. I shall never forget the morning of 1st June 1961 when the phone rang and I was informed that Merthyr Club House was burnt down during the night; exactly 21 years ago from today. It was a heartbreak to go over and see everything gone mainly your records of everything, plus the pennants that had been won and honour boards – things you can never replace. Once again the hard work was ahead of us. Then President, Mrs Lowcock, called a special meeting on the 3rd June on the greens, so that we could plan what was to be done. The President called on Mrs Cornelius to report on the insurance, as I was the only person contacted. Naturally the insurance was only for £1000 – contents £144.60 with only the club mallets included as members were able to be reimbursed through their own insurance. Clubs and players were very good with their offers and donations and by the time we were ready to start with the new building our fund was £1,378.15. Once again we were fortunate as my husband and sons were builders. Hedley who was a member offered to draw the plans; also he and Mr Aitkinson plus other helpers went down on the Sunday to demolish the building. Mr Cornelius was asked to give a quote, which after discussing it with me said our money would not cover it. Providing we would help with the painting he would do his best. When the quote came in for £1342 we were able to accept it and were free of debt. On the opening of the new club on 18th November 1961, Mr Cornelius said it was for the future of Merthyr Club and hoped they would be able to carry on for many years to come. From then on we gradually progressed. it was in 1966 that Merthyr won the vote from Windsor Club to be the headquarters for the A.C.C Carnival. It was a very proud day to think what we had achieved to bring it back as headquarters. while I was President of the Association 1967 to 1971 all major events were held there and (we) still take our turn with Windsor and other clubs. In 1966 we were headquarters for the International State Games between England and Queensland, NZ and England. This meant a lot of work and without the help my sons did for me and the members I never would have been able to cope. Luckily those members were always there when needed. From those early days we have progressed to the extent that members realise we must spend money if we expect good courts. In February 1977 we were very fortunate in getting Les Cornelius looking after them for us. We also realise we cannot expect greens like bowlers as we can never have the same amount of players. In concluding this I would like to wish Merthyr Club every success in the future, remembering to try and keep your club active and not forget that you must keep new members coming in to replace the old. Don't let it happen what happened in 1953.